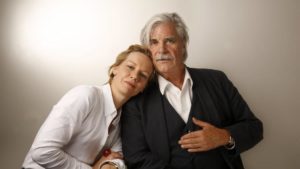 "Toni Erdmann," a German-language tragicomedy that is one of the most surprising and lauded films of the year, capturing the well-meaning fumble that can occur when parents and children try to connect and it was just nominated in the Foreign Language Film category.
But while centering on the relationship between a shaggy elderly jokester and his uptight adult daughter, "Toni Erdmann" also manages a thematic juggling act. A film about oppositional family dynamics ends up as an inquiry into much more, with feminism, globalism and corporate culture all falling under its gaze.
What seemed like effortless mayhem on the screen was the result of a painstaking — and unorthodox — directing approach by Maren Ade, who chose actors with extensive theater backgrounds — Peter Simonischek in particular is a member of an Austrian rep company that performs the likes of Chekhov.
Germany
|
Austria
|
Romania (2016) , 2 hr 42 min
Winfried doesn't see much of his working daughter Ines. The suddenly student-less music teacher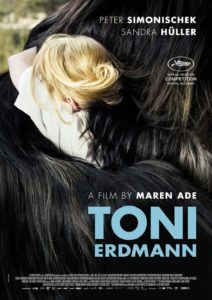 decides to surprise her with a visit after the death of his old dog. It's an awkward move because serious career woman Ines is working on an important project as a corporate strategist in Bucharest. The geographical change doesn't help the two to see more eye to eye. Practical joker Winfried loves to annoy his daughter with corny pranks. What's worse are his little jabs at her routine lifestyle of long meetings, hotel bars and performance reports. Father and daughter reach an impasse, and Winfried agrees to return home to Germany. Enter flashy "Toni Erdmann" – Winfried's smooth-talking alter ego. Disguised in a tacky suit, weird wig and even weirder fake teeth, Toni barges into Ines' professional life, claiming to be her CEO's life coach. As Toni, Winfried is bolder and doesn't hold back, but Ines meets the challenge. The harder they push, the closer they become. In all the madness, Ines begins to understand that her eccentric father might deserve some place in her life after all.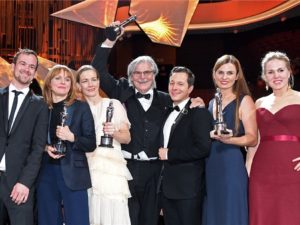 The Academy Award for Best Foreign Language Film is handed out annually by the Academy of Motion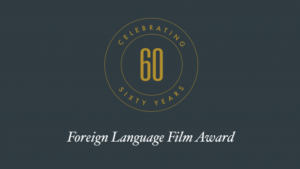 Picture Arts and Sciences to a feature-length motion picture produced outside the United States of America with a predominantly non-English dialogue track.  When the first Academy Awards ceremony was held on May 16, 1929 to honor films released in 1927–28, there was no separate category for foreign language films. Between 1947 and 1955, the Academy presented Special/Honorary Awards to the best foreign language films released in the United States. These awards, however, were not handed out on a regular basis (no award was given in 1953), and were not competitive since there were no nominees but simply one winning film per year. For the 1956 Academy Awards, a competitive Academy Award of Merit, known as the Best Foreign Language Film Award, was created for non-English speaking films, and has been given annually since then.
Academy award history
This is the tenth Academy Award nomination for Germany. Previous nominations were:
THE WHITE RIBBON (2009)
Nominee, Foreign Language Film
THE BAADER MEINHOF COMPLEX (2008)
Nominee, Foreign Language Film
THE LIVES OF OTHERS (2006)
Winner, Foreign Language Film
SOPHIE SCHOLL – THE FINAL DAYS (2005)
Nominee, Foreign Language Film
DOWNFALL (2004)
Nominee, Foreign Language Film
NOWHERE IN AFRICA (2002)
Winner, Foreign Language Film
BEYOND SILENCE (1997)
Nominee, Foreign Language Film
SCHTONK! (1992)
Nominee, Foreign Language Film
THE NASTY GIRL (1990)
Nominee, Foreign Language Film
Prior to reunification in 1990, the Federal Republic of Germany received a total of eight Academy Award nominations, including one win:
ANGRY HARVEST (1985)
Nominee, Foreign Language Film
THE TIN DRUM (1979)
Winner, Foreign Language Film
THE GLASS CELL (1978)
Nominee, Foreign Language Film
THE PEDESTRIAN (1973)
Nominee, Foreign Language Film
THE BRIDGE (1959)
Nominee, Foreign Language Film
ARMS AND THE MAN (1958)
Nominee, Foreign Language Film
THE DEVIL CAME AT NIGHT (1957)
Nominee, Foreign Language Film
THE CAPTAIN OF KOPENICK (1956)
Nominee, Foreign Language Film
Prior to reunification in 1990, the German Democratic Republic received one Academy Award nomination:
JACOB, THE LIAR (1976)
Nominee, Foreign Language Film