Rainer Werner Fassbinder was a German director, film producer, author and actor, and a representative of the New German Film movement. The international film world sees him as Germany's most significant filmmaker after World War II. He passed away 35 years ago on June 10, 1982.
While Fassbinder maintained a professional career that lasted less than fifteen years, he completed forty feature length films; two television film series; three short films; four video productions; twenty-four stage plays and four radio plays; and thirty-six acting roles in his own and others' films. He also worked as an actor (film and theater), author, cameraman, composer, designer, editor and theater manager.
Fassbinder was born in Bavaria in the small town of Bad Wörishofen on 31 May 1945. He was born three weeks after the Allies occupied the town and the unconditional surrender of Germany. The aftermath of World War II deeply marked his childhood and the lives of his family. As a teen, Fassbinder was sent to boarding school. His time there was marred by his repeated escape attempts and he eventually left school before any final examinations.
In the mid-1960s, Rainer Werner Fassbinder's application to a Berlin film school was rejected – twice. Undeterred, he proceeded to write, direct and act in several short films of his ow and worked in theater in Munich. In 1969, his first feature-length film "Love Is Colder Than Death" premiered at the Berlin International Film Festival and Fassbinder was thrust into the public spotlight. In the 1970s, he achieved a breakthrough with "The Bitter Tears of Petra von Kant," "Ali: Fear Eats the Soul," and "Fox and His Friends." In 1978, his English-language film "Despair" – his most expensive to date – flopped at the box office. While Fassbinder received acclaim in the international film world, he was often criticized in his home country for his very direct way of approaching sensitive issues – until he was honored with the Golden Bear at the Berlin International Film Festival in 1982 for "Veronika Voss."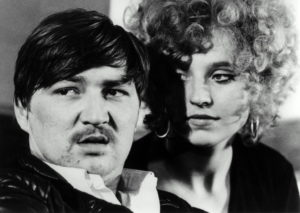 In his 44 films, the director focuses decidedly on German history. "Lili Marleen," showed Germans during the Nazi regime. "Lola" and "The Marriage of Maria Braun" covered chapters of West Germany's economic miracle. With "In a year with 13 Moons" and "Germany in Autumn," Fassbinder displays the tense period during Germany's left-wing terrorism movement at the end of the 1970s. His monumental "Berlin Alexanderplatz" offered an impressive perspective on Germany in the 1920s.
At age 37, Fassbinder died from a drug and alcohol-induced heart attack while working on his last project, "Querelle."
Remembering Rainer Werner Fassbinder on the 35th Anniversary of her death with the screening of The bitter tears of Petra von Kant (Die bitteren Tränen der Petra von Kant) on June 14, 2017 @ the Clinton Street Theater.
The cinematographer for this films was Michael Ballhaus, who passed away in April of this year.