Katja Riemann, will be in attendance and receive the 2015 Portland German Film Festival Award for her body of work including dozens of movie roles and TV acting credits as this year's festival kicks off with the American Premiere of A MISPLACED WORLD (Die abhandene Welt), the latest from legendary director Margarethe von Trotta on September 25, 2015.
This will be the 1st PORTLAND GERMAN FILM FESTIVAL AWARD which will be given to an artist and the selection criteria states that "the recipient should be an extraordinary artist currently making a significant contribution to the art of the Moving Picture".
Katja Riemann fits all those criteria. Born as the daughter of two teachers, Katja Riemann grew up in northern Germany, outside Bremen. She plays different instruments and takes ballet lessons and after finishing school she went to study music and theater.
In 1986 she is cast as the lead for the TV series "SOMMER IN LESMONA", she receives her first award for this role, the Adolf-Grimme-Preis in Gold. Riemann is going back playing theater when she is cast again in a TV series "REGINA AUF DEN STUFEN" after the book by Utta Danella.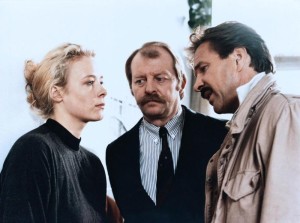 She receives the GOLDENE KAMERA in 1989 as best newcomer for her next role beside Götz George in "TATORT: KATJA'S SCHWIEGEN".
In 1993 she moves to the big screen and debuts in her first movie role in "EIN MANN FUER JEDE TONART". That year she meets director Katja von Garnier and they make their first film together, "ABGESCHMINKT".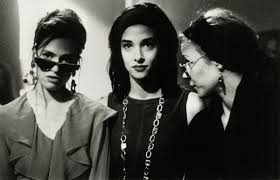 The film is followed by Sönke Wortmann's comedy "DER BEWEGTE MAN" which will be the biggest box office hit in Germany in the 90ties. She is also very successful in Europe, playing beside Gerard Depardieu in the French TV movie "BALZAZ", in Italy in "NOBEL" and in Canada in "DESIRE" (Begierde), for which she is nominated for the Canadian Oscar, the Genie Award.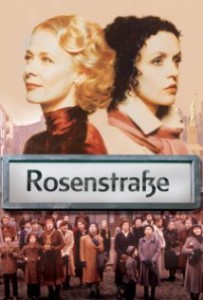 Her 2003 movie "ROSENSTRASSE" goes on to win a Golden Globe Award and Katja Riemann receives the "COPPA VOLPI" at the Venice Film Festival. This is the first collaboration between Katja Riemann and Margarethe von Trotta.
Katja Riemann receives nearly all prizes which are given in Germany to Actors/ Actresses, the Ernst-Lubitsch-Preis, the German and the Bavarian Film Preis, the Order of Merit of the Federal Republic of Germany and many more.
Currently she can be seen in the sequel to "Fack ju Göhte" in movie theaters in Germany.
In addition, this gifted artist enjoys recognition as a musician and writer of children's books (illustrated by her sister Susanne). She is also very much involved in AMNESTY INTERNATIONAL and UNICEF.
The festival will close with the repertory screening of Katja Riemann's film BANDITS on Tuesday, Sept. 29, 2015.