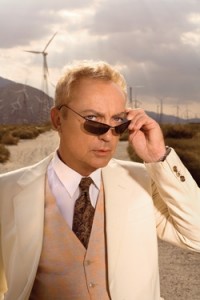 Veteran German actor Udo Kier — who has in his career played everything from a vampire to Hitler to a monster baby – just turned 70th.
Udo Kier will be featured in this year's Portland German Film Festival with Jeremy JP Fekete's documentary "ME…UDO…starring Udo Kier" which will play with the short GRAF KARPATOVICZ AND THE BLONDE BITE. His role as Graf Karpatovicz was developed for the movie THE SKY HAS FOUR CORNERS and he has also an uncredited appearance as a waiter in LOLA – both movies are also playing in this year's festival.
Born October 14, 1944 in Cologne, Germany, during World War II, moving to Great Britain when 18 to learn the English language, Kier has played in more than 200 film and TV roles over some 40 years in his astoundingly productive career. He has moved between art-house films, European auteur directors and Hollywood blockbusters.
Among other things, he has played a vampire king in Blade, Satan's servant in the Arnold Schwarzenegger vehicle End of Days and a role in Ace Ventura: Pet Detective alongside Jim Carrey.
But Kier is perhaps best known for his art-house roles, including the creepy German john who picks up rent boys Keanu Reeves and River Phoenix in Gus van Sant's My Own Private Idaho (1991) or his many supporting roles in films from Lars von Trier. Kier is something of a muse for the controversial Danish director, having appeared in nine of his movies, most recently in the sex epic Nymphomaniac.
Kier's career is full of daring choices, and he's worked with such icons as Andy Warhol ("Andy Warhol's Frankenstein") and Rainer Werner Fassbinder ("Lili Marleen," "Lola" and "Berlin Alexanderplatz").
Udo Kier received the CineMerit award for his amazingly multifaceted career at this year's FILMFEST MÜNCHEN.