Little known yet widely influential, Austria's film industry is unique among world cinemas. While naming your favorite Austrian films may be a challenging exercise, this landlocked country also boasts one of the world's most controversial and influential directors: Michael Haneke. Without a doubt he is the most internationally successful Austrian filmmaker working today, and his cinematic impact resonates globally. However while Haneke has received worldwide praise, there are many Austrian directors who are yet to receive the recognition they deserve. Following the footsteps of Haneke are directors such as Ulrich Seidi, Markus Schleinzer, Stefan Ruzowitzky and Barbara Albert. Each have made thought-provoking, strong pieces of cinema that merit wider international acclaim.
This years Portland German Film Festival FOCUS ON AUSTRIA will  show the following two films:
Monday, October 9, 2017 at 7.00 PM @ CINEMA 21
Egon Schiele – Death and the Maiden (Egon Schiele – Tod und Mädchen)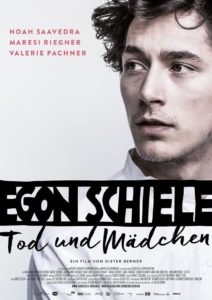 Austria 2016, 110 min
Directed By: Dieter Berner
Cast: Noah Saavedra, Maresi Riegner, Valerie Pachner
At the beginning of the 20th Century Egon Schiele is one of the most provocative artists in Vienna. His life and work are driven by beautiful women and an era that is coming to an end. Two women will have a lasting impact on him – his sister and first muse Gerti, and 17 year old Wally, arguably Schiele's one true love, immortalized in his famous painting 'Death and the Maiden'. Schiele's radical paintings scandalize Viennese society while daring artists like Gustav Klimt and art agents alike are sensing the exceptional. But Egon Schiele is also prepared to go beyond his own pain and to sacrifice Love and Life for his Art. Art that inspires us up to this day.
THIS IS A FREE SCREENING
Monday, October 9, 2017 at 9.00 PM @ CINEMA 21
Turbulent Times, Familiar Places (Turbulente Zeiten & Vertraute Orte)
Austria 2016, 87 min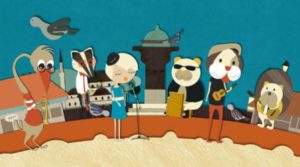 The program TURBULENT TIMES, FAMILIAR PLACES assembles contemporary positions of Austrian female animation filmmakers and is currently touring around the world with the Austrian Federal Ministry for Europe, Integration, and Foreign Affairs. The program offers an insight into the various techniques and work processes with which the artists shift the attention to relevant and unprecedented topics.
With:
HOMESTATEMENTS, Maria Weber, AT 2014
SHUT UP MOON, Gudrun Krebitz, AT 2014
TAIPEI RECYCLERS, Nikki Schuster, AT 2014
PRINCESS DISASTER MOVIE, Xenia Ostrovskaya 2014
YACHAY, Anne Zwiener, AT 2015
GARTEN & SCHNAPS, Amelie Loy, AT 2013
GINNY, Susi Jirkuff, AT 2015
TWO MELONS – BIRTH OF AN ARTIST, Ingrid Gaier, AT 2014
FOLLOW YOU, Katharina Petsche, AT 2013
DER VERLIEBTE KOCH, Verena Hochleitner & Ulrike Swoboda-Ostermann, AT 2013
THREE SUNS, LIA, AT 2013
MACHINE, Anna Vasof, AT 2015

TURBULENT TIMES, FAMILIAR PLACES is a collaboration between Tricky Women and the Austrian Federal Ministry for Europe, Integration, and Foreign Affairs.  
Both films are proudly sponsored by the Austrian Consulate General in Los Angeles.