FRI. SEPT. 25, 2015 – 7.30 PM – OPENING NIGHT!

Germany 2015, 101 min
Directed by Margarete von Trotta

CAST: Katja Riemann, Barbara Sukowa, Matthias Habich, Karin Dor, Robert Seeliger, Gunnar Möller
By chance Paul Kromberger discovers on the internet a photograph of the US opera diva Caterina Fabiani who is the spitting image of Evelyn, his dead wife. His unease and growing sense of alarm are transferred to his daughter, Sophie. Filled with curiosity, she leaves Germany and journeys across the Atlantic to make contact with this stranger. At their first meeting Caterina is dismissive and unprepared to impart any information about herself or her family. But, little by little, secrets which have been hidden for decades deep in the hearts of the older generation come to light.
With Die abhandene Welt, Margarethe von Trotta returns to the theme of sisters which she already explored in her internationally noted films Sisters, or the Balance of Happiness and Die bleierne Zeit. With emotional verve the film tells of a sudden and unexpected invasion of the past into the present, of suppressed fear and guilt, of a new self-confidence and how acknowledging the truth can free both the body and the soul. A roller-coaster of emotions with an uncertain outcome.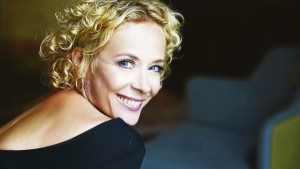 Katja Riemann will be in attendance. She will receive the  Portland German Film Festival Award 2015 at this screening.
Opening remarks by Consul General of the Federal Republic of Germany Stefan Schlüter
THE OPENING NIGHT PARTY WILL BE DIRECTLY AFTER THE FILM AT CINEMA 21.
                                                                         This movie is proudly sponsored by