In our Monthly Film Series, we will show a variety of GERMAN or GERMAN language films from Germany, Austria and Switzerland. On the 2nd Wednesday of each month, audiences will now have a chance to see these films on a regular basis at the CLINTON STREET THEATER. (Children movies will be playing on Sunday afternoons – please check our website.) All films are with English subtitles.
WED. MAY 11, 2016 – 7:00 PM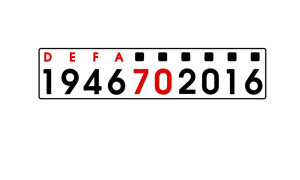 DEFA Turns 70!
On May 17, 1946, the Soviet Military Administration in Germany granted a license to the DEFA (Deutsche Film-AG) Studio for the production of films. Only five months later the first DEFA film, The Murderers Are among Us (dir. Wolfgang Staudte), premiered in Berlin and won international recognition—the first German film made after WWII.
By the time the DEFA Studios were closed in 1990, almost 8,000 documentary, feature, and animation films had been produced. Far from being trapped behind the Wall, East German films were screened around the world and won recognition at important international festivals. International exchanges took place through the film trade, co-productions and international stars.
To celebrate DEFA's 70th birthday we are showing:
Käthe Kollwitz: Images of a Life
Dir. Ralf Kirsten,GDR, 1987, 95 min., color,
Käthe Kollwitz (Jutta Wachowiak) is 47 years old and already a well-established artist in Germany and abroad when Peter, her youngest son, volunteers to join the German army in WWI and gets killed two weeks later. This painful tragedy changes Kollwitz's life and art forever. She becomes a radical pacifist; in her art she reflects on her son and the meaning of war. After signing a petition against the Nazis, she is excluded from the Prussian Academy of Arts in Berlin and her art is labeled "degenerate." Lonely and sick, she spends the last days of her life in Dresden and she dies at the age of 78, before the end of WWII.
Ralf Kirsten—director of The Lost Angel, a homage to German artist Ernst Barlach—used episodes from Kollwitz's unpublished letters and diaries to fit them together in a mosaic-like self-portrait.
Käthe (Schmidt) Kollwitz (8 July 1867 – 22 April 1945) was a German artist, who worked with drawing, etching, lithography, woodcuts, painting, printmaking, and sculpture. Her most famous art cycles, including The Weavers and The Peasant War, depict the effects of poverty, hunger, and war on the working class.Despite the realism of her early works, her art is now more closely associated with Expressionism.Kollwitz was the first woman elected to the Prussian Academy of Arts.