SAT. OCT. 07, 2017 @ 7.00 PM
Germany 2017, 101 min
Director: Sam Garbarski
Cast: Moritz Bleibtreu, Antje Traue, Tim Sey, Mark Ivanir, Anatole Taubman, Hans Low, Pal Macsai, Vaclav Jakoubek
Actor Moritz Bleibtreu will be in attendance, Q&A after the film.
At the end of the Third Reich, most surviving Jews from the Holocaust understandably left Germany as fast as possible. But former Sachsenhausen inmate David Bermann (Moritz Bleibtreu), among about 4,000 other real-life survivors who remained, sees his blasted homeland as the land of opportunity. He dreams of reopening his family's seized linen business in Frankfurt, but American forces deny him a license; with his haughty demeanor and fancy suit, David is suspected to be a Nazi collaborator by occupation forces and is subject to questioning by Special Agent Sara Simon (Antje Traue). Undaunted, he gathers a group of Jewish salesmen to help him peddle imported linens door-to-door, stressing that they never resort to stoking German guilt to seal the deal—they are to be legitimate businessmen, not victims. Director Sam Garbarski maintains the upbeat tone for most of the film, wringing sly humor from the absurdities faced by the salesmen, but memories of the horrors they each faced lie just under the surface; David's flashbacks to the camps reveal his survivor's guilt as his smooth-talking of the guards helped save him from the ovens while the rest of his family perished. Garbarski's adaptation of German-Swiss novelist Michel Bergmann's "Teilacher" trilogy is a tale of re-assimilation and rebirth, how maintaining a sense of humor is a vital step towards redemption.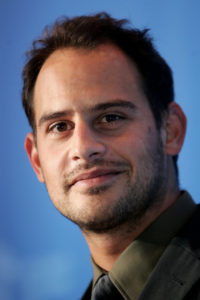 Moritz Bleibtreu is one of few actors to traverse from German cinema to international success, starring in many films that won worldwide acclaim, including the hits "Run Lola Run" and "The Baader Meinhof Complex. " Born into a show-business family, his parents (actors Hans Brenner and Monica Bleibtreu)  and great-aunt (Hedwig Bleibtreu) are all well-known actors. Bleibtreu first worked as a child on the children's television series "Neues aus Uhlenbusch," written by his mother. He left school at 16 to study acting in Paris and New York City; he labeled his experience in Gotham as one of the worst of his life, in terms of the treatment of students. By 1992, he returned to Hamburg for its Deutsches Schauspielhaus theatre and soon secured work on television, most notably a lead role on the German youth series "Die Gang" in 1997. Afterwards he was chosen by Tom Tykwer to appear in the crossover hit "Run Lola Run," his first major appearance on the international scene. Bleibtreu's profile rose with a number of features around the turn of the century, but it was the role of Tarek Fahd in "Das Experiment," based on the 1971 "Stanford Prison Experiment," which brought him worldwide recognition and several award nods. Large roles increasingly came Bleibtreu's way, notably the Steven Spielberg revenge thriller "Munich." In 2008, he won two very different roles, that of the Grey Ghost in "Speed Racer" and terrorist Andreas Baader in Uli Edel's harrowing "The Baader Meinhof Complex."
The Portland German Film festival showed several of his films in the past years, like NOT MY DAY or YOUNG GOETHE IN LOVE.
Please note: Due to unforeseen circumstances Moritz Bleibtreu will not be able to attend the screening as previously announced. We apologize for any inconvenience.