In 2015, the Portland German Film Festival started its series of German classic movies which will be shown at a matinee on Sundays @ 1.00 PM during the festival.
This year's classic film will be "GIRLS IN UNIFORM" (Mädchen in Uniform), starring Lilli Palmer and Romy Schneider.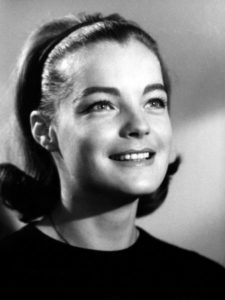 Romy Schneider (1938 – 1982) was born as Rosemarie Magdalena Albach in Nazi-era Vienna to actor parents Wolf Albach-Retty and Magda Schneider. She started her career in the German Heimatfilm genre in the early 1950s when she was 15. Her first film was was Wenn der weiße Flieder wieder blüht (When the White Lilacs Bloom Again) in 1953. From 1955 to 1957 she played the central character of Empress Elisabeth of Austria in the Austrian Sissi trilogy. After falling in love with french actor Alain Delon, she decided to live and to work in France, slowly gaining the interest of film directors such as Orson Welles for The Trial (1962), based upon Franz Kafka's The Trial and was introduced by Delon to Luchino Visconti. A brief stint in Hollywood included a starring role in Good Neighbor Sam (1964) a comedy with Jack Lemmon, while What's New Pussycat? (1965), although American financed, was shot in and around Paris. Schneider co-starred with Peter O'Toole, Peter Sellers and Woody Allen; the film was made from his first screenplay. Schneider continued to work in France during the 1970s, most notably with director Claude Sautet in The Things of Life (Les choses de la vie, 1970) with Michel Piccoli and  Sautet's César et Rosalie (1972) with Yves Montand. She won 2 César Award (France's equivalent of the Oscar), the German Film Award and was nominated for a Golden Globe Award besides numerous other prestigious awards. The French journalist Eugène Moineau initiated in 1984 the Prix Romy Schneider. It is one of the most prestigious awards for upcoming actresses in the French film industry and is given by a jury each year in Paris.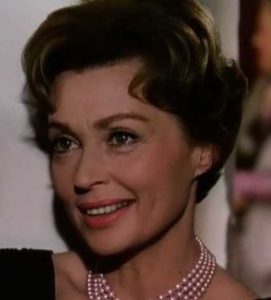 Lilli Palmer (1914 – 1986), born as Lilli Marie Peiser took her surname from an English actress she admired. She was a junior table tennis champion as a young girl and studied drama in Berlin before fleeing to Paris in 1933 following the Nazi takeover. While performing in cabarets, she attracted the attention of British talent scouts and was offered a contract by the Gaumont Film Company. She made her screen debut in Crime Unlimited (1935) and appeared in British films for the next decade. She married actor Rex Harrison in 1943, and followed him to Hollywood in 1945 where she signed with Warner Brothers and appeared in several films and periodically appeared in stage plays as well as hosting her own television series in 1951. Palmer returned to Germany in 1954 where she played roles in many films and television productions. She also continued to play both leading and supporting parts in the U.S. and abroad. In 1957, she won the German Film Award for Best Actress for her portrayal of Anna Anderson in The Story of Anastasia. A talented writer, Palmer published a memoir, Change Lobsters and Dance, in 1975. She wrote a full-length work of fiction presented as a novel rather than a memoir, The Red Raven in 1978.  She has a star on the Hollywood Walk of Fame at 7013 Hollywood Blvd. and in 1974 she received the Great Cross of Merit of the Federal Republic of Germany (Großes Verdienstkreuz der Bundesrepublik Deutschland). She won the Volpi Cup, the German Film Award three times, and was nominated twice for a Golden Globe Award.
This film is produced by Arthur Brauner's  CCC Film (Central Cinema Compagnie-Film GmbH) which became one of the largest producers of postwar German-language films and helped to establish Berlin as a center of German film and television production. Founded in 1946 CCC Film celebrated this year its 70ties anniversary.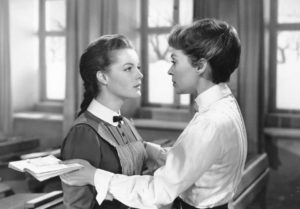 SUNDAY, SEPT. 25, 2015 @ 1.00 PM
GIRLS IN UNIFORM (Mädchen in Uniform) (1958)
Written and directed by Géza von Radványi and based on the play by Christa Winsloe. The film is a remake of the 1931 film and was entered into the 8th Berlin International Film Festival.
Manuela von Meinhardis (Romy Schneider), whose mother had died when she was young and father serves in the military, is enrolled at an all-girls boarding school headed by an iron-fisted headmistress (Therese Giehse).  Manuela is immediately exposed to the strictness of the school when both receiving her uniform as well as having many of her possessions taken from her. While the other girls at the school receive Manuela with open arms, she still feels very out of place until she meets Fräulein von Bernburg (Lilli Palmer), a teacher at the school.
Romy Schneider was nominated for the 1959 German Film Award for best performance by an actress in a leading role for this movie.
Check out our website and "like" us on facebook and stay tuned for future title releases over the next months.