Zeitgeist Northwest will present the 8th Annual Portland German Film Festival from Oct. 3 – 10, 2017 @ at Cinema 21. Stay connected with us and get updates on the films we are showing with facebook.
Over the next month we will release our upcoming schedule, here are this year's children's movies. (All films are in German with English subtitles.)
SAT. OCT. 07, 2017 @ 3.00 PM
AT EYE LEVEL (Auf Augenhöhe)
106 mins. Germany (2016)
Directors/Screenwriters: Evi Goldbrunner, Joachim Dollhopf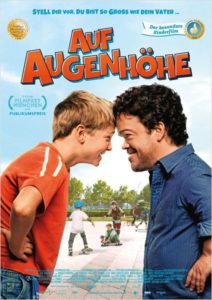 Starring: Luis Vorbach, Jordan Prentice, Ella Frey, Marco Licht, Anica Dobra
Michael, an 11 year old orphan, lives in a children's home and has to fight each day to win the respect of the other children. One day, he finds out who his real father is and writes him a letter. His father, Tom, happens to be a person of short stature, who is even shorter than Michael. He wants to accept the challenge of fatherhood, even though he knew nothing about Michael until now. For Michael, Tom's handicap is a disaster, as he feels that it is opposite of the manliness and strength he envisioned his father to have. When the other children finds out, Michael's life becomes a disaster and he runs away from the children's home. With no other place to go, he moves in with Tom. Tom is new to fatherhood but tries his best, while Michael tries to hide his embarrassment from his classmates. This forces Tom to confront his handicap head on. As time passes, they discover that they have more in common than other sons and fathers, and form an unlikely bond.
SELECT AWARDS: 
German Film Award for Best Children's Film 2017
SAT. OCT. 07, 2017 @ 5.00 PM
OFFLINE: ARE YOU READY FOR THE NEXT LEVEL? (Offline: Das Leben ist kein Bonuslevel)
87 min, Germany 2016
Director Florian Schnell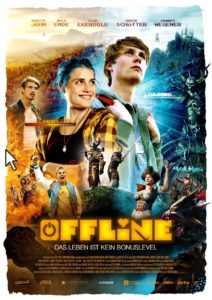 Cast Moritz Jahn, Mala Emde, Ugur Ekeroglu, David Schütter, Hannes Wegener, Marc Zwinz
Awkward, withdrawn 17-year-old Jan (Jahn) spends much of his time escaping his tedious teenage existence through video games. Online, he's Fenris, a formidable level 69 player in the fantasy game "Battle of Utgard." While preparing for the online tournament "Ragnorök," Jan is unceremoniously barred from the game. Through some clever sleuthing and with the help of fellow expelled player Karo (Emde), Jan discovers that they have both been hacked by another player, a devious level 70 sorcerer known as Loki (Wegener). As the duo set out on a journey across Germany to find Loki's human counterpart, Jan must learn to apply his considerable gaming skills to the real world. In his quest to regain his powerful online identity, he comes to appreciate his life as regular, teenage Jan. Florian Schnell's spirited coming-of-age adventure is especially engaging when exploring the growing friendship between Jan and his feisty female companion, Karo. The script, co-written by Jan Cornauer, takes the unique approach of stressing the value of living in the real world without vilifying the online world the characters love.
SELECT AWARDS: LUCAS – Internationales Festival für junge Filmfans 2016: Best Film; Filmkunstfest Schwerin 2016: LEO-Kinder und Jugendpreis; Cine a la Vista 2016: Best Film; CineKid Festival 2016: Best Youth Film
THIS IS FOR THE TEENS, our many young friends who've outgrown the Kinderfilme.
High school students, German clubs, young German learners and the parents/ audults who dare.
SUN. OCT. 08, 2017 @ 3.00 PM
NELLY'S ADVENTURE (Nelly's Abenteuer)
94 min., Germany
Director Dominik Wessely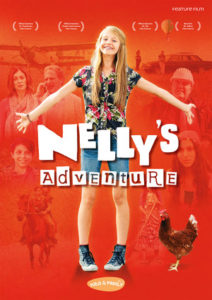 Cast Flora Li Thiemann, Julia Richter, Kai Lentrodt, Gustav Peter Wöhler, Hannes Höchstmann, Hagi Lacatus, Raisa Mihal,
Thirteen-year-old Nelly's holiday in Romania takes a very dramatic turn when she accidentally discovers her family's secret plan to relocate there. Running away to avoid the reality of her fate, she walks straight into the hands of kidnappers! Their leader is an unscrupulous German engineer, plotting to destroy her father's energy project by forcing the family to leave the country. Together with the help of the mysterious Mr. Holzinger, Nelly's parents mount a desperate search for their daughter. Nelly, in turn, befriends two young Roma siblings, Tibi and Roxana, who aide her in her adventurous escape. Together, they cross mountains and rivers, flee from a dungeon, board a moving train, 'borrow' a car and become the heroes of the day!
SELECT AWARDS: Best Film Elements Giffoni 2016, First Prize Kinderfilmfest Bremen 2016, German Film Music Award (Newcomer) 2016, Best Young Actress (Flora Li Thiemann) & Best Young Supporting Actor (Hagi Lacatus) Listapad Minsk 2016, Special Jury Prize Best Ensemble & Audience Award Seattle 2017