Zeitgeist Northwest will present the 6th Annual Portland German Film Festival from Sept. 25 – 29, 2015 @ at Cinema 21. Stay connected with us and get updates on the films we are showing with facebook.
Over the next weeks we will release our upcoming schedule, starting with this years children's movies.
SAT. SEPTEMBER 26, 2015 @ 3.00 PM
LOLA ON THE PEA (LOLA AUF DER ERBSE)
Germany 2014, 90 min
In German withEnglish subtitles
DIRECTOR: Thomas Heinemann
CAST: Antoine Monot Jr., Christiane Paul, Berivan Kaya, Tabea Hanstein
Nine-year-old Lola lives on a charming old houseboat with her mother. But life isn't exactly going swimmingly for her. She misses her long-gone dad, and doesn't much care for her mom's new boyfriend. She also has to contend with schoolmates who tease her and chase her home from school. But one day, she makes a friend—a quiet new boy in town, named Rebin. Rebin's family is secluded and mysterious, and Lola soon finds out that they are migrants who don't have the proper documents to live and work in Germany. Together, the two friends learn to fight for what is right, stand up to bullies, and face the future with courage and hope.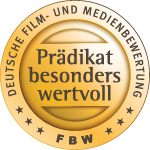 SUN. SEPT. 27, 2015 @ 3.00 PM
SHANA – THE WOLF'S MUSIC (SHANA – DIE WOLF'S MUSIK)
Canada/ Switzerland, 96 min; In German with English subtitles
DIRECTOR: Nino Jacusso       CAST: Alana Aspinall, Marty Aspinall, Delilah Dick
Shana is a Canadian First Nations girl who is a gifted violinist. But she has problems no young person should have to face: her mother has died, and her father is struggling with his own demons. Only Shana's new teacher seems to care about her, and at first, Shana pushes her away. But she meets another, more mystical being to accompany her on her journey: a wild wolf that helps her reconnect with her ancestors, make peace with her circumstances, and use her talents to express her passions.
Filming with a cast made up of People of the Creeks, the Lower Nicola Indian Band, near Merritt, British Columbia, the Swiss director spent seven months making this moving, magical and authentically intercultural motion picture.