In November of 2014 the Portland German Film Festival started to show a variety of GERMAN and GERMAN language films from Germany, Austria and Switzerland on every 2nd Wednesday of each month. Audiences having the chance to see these films on a regular basis at the CLINTON STREET THEATER. (Children movies will be playing on Sunday afternoons – please check our website.) All films are with English subtitles.
Our anniversary film on Nov. 11, 2015 is CERRO TORRE – A SNOWBALL'S CHANCE IN HELL and there will be giveaway's to celebrate this anniversary to the audience.
Here is our 1 year anniversary poster (by ProGrafix Graphic Design)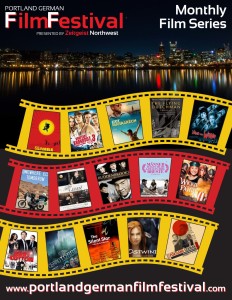 Dankeschön to everybody who attended our screenings and see you in December!