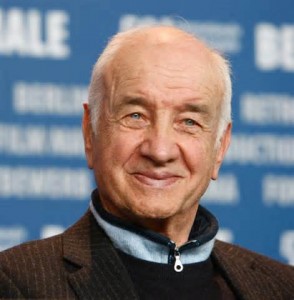 Armin Mueller-Stahl is one of Germany's biggest internationally known stars. He will receive a Lifetime Achievement Award at this year's Portland German Film Festival. The ceremony will be accompanied by a screening of the film LOLA by director Rainer Werner Fassbinder.
Armin Mueller-Stahl was born in Tilsit, Eastern Prussia, which now belongs to Russia. He can look back on a long and successful career as a stage, film and TV actor. Enrolling at acting school in 1952 he was engaged at the prestigious Volksbühne in Berlin (then East Berlin) for nearly 25 years, performing in both classical as well as modern roles.
He was voted most popular actor in the German Democratic Republic for five years in a row. Apart from his role as an agent in the TV-series Das unsichtbare Visier (The Invisible Target), the James Bond of the East, he was mainly cast in character roles like in Nackt unter Wölfen (Naked Among Wolves, 1963) and Jakob der Lügner (Jacob the Liar, 1974). When Mueller-Stahl signed an Open Letter (Resolution) protesting Wolf Biermann's expatriation from the GDR in 1976 he landed on the government's Black List. After that there were hardly any offers coming his way.
In 1980 he was permitted to leave East Germany and to move to the West where he worked with filmmakers like Rainer Werner Fassbinder in Lola (1981), Costa-Gavras in Music Box (1989) and Jim Jarmusch, playing the taxi driver Helmut Grokenberger in Night on Earth (1991).
An Oscar nomination came in 1996 for his role in Shine, directed by Scott Hicks and in 2003 he won the Adolf Grimme Award for his performance as Thomas Mann in the three-part TV film Die Manns, ein Jahrhundertroman (The Manns – Novel of a Century). In 2007 he was seen in David Cronenberg's thriller Eastern Promises as the mysterious Russian Mafia godfather and in 2009 he played the role of Cardinal Strauss in the blockbuster Angels and Demons.
Armin Mueller-Stahl's talent got recognized not only in Europe; he also conquered Hollywood after leaving Germany and moving to the United States at the age of nearly 60 years.
In addition, this gifted artist enjoys worldwide recognition as a painter and graphic artist, as a musician (he studied music and trained as a concert violinist), as well as a film director and author of books (published by Aufbau Verlag). During the last years he has increasingly focused on music and painting; since 2001 he has presented his works in many exhibitions.