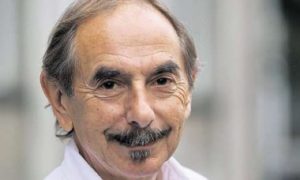 Swiss film director and screenwriter, Xavier Koller will attend the screening of his movie SCHELLEN-URSLI (The little mountain boy) (Schellen-Ursli) on Sept. 24, 2016 at CINEMA 21 (schedule permitted). Koller made movie history when he was the first Swiss native to win an Academy Award ® for his film Journey of Hope (Reise der Hoffnung), which won the Academy Award for Best Foreign Language Film in 1990.
After graduating from High School, Xavier Koller first went through a four-year apprenticeship as a precision toolmaker and then, after three years of training at the Academy of Drama in Zurich, Switzerland, graduated as an actor/director.
The next several years he spent acting and directing at German and Swiss theatres. He did a number of TV-plays as an actor, directed commercials, acted in movies, and then started to write and direct feature films.
After winning the Academy Award ® he moved to Los Angeles in 1991 and worked on the Disney live action film Squanto: A Warrior's Tale, an adventure historical fiction film based on the life of Squanto.
His latest film SCHELLEN-URSLI (The little mountain boy) (Schellen-Ursli) is adapted from a children's book that was translated into nine languages, this film tells the story of young Ursli, who longs to be the star of the Spring festival in his Engadine village, and his search for a suitable cow-bell up in the Alps.